Films from Before the Year Zero
Date: November 30, 2020
Time: 4:30pm
Location: Mike M's Place. Message the Facebook Group for more information
Captain Laser: Mike M.
Food: Chili
Costume: Casual

To learn more, please visit our Facebook Event Page.
Short features will be shown before each feature. Don't miss them!
Fahrenheit 451
(1966, 112 minutes) Directed by: François Truffaut
Starring: Oskar Werner, Julie Christie, Cyril Cusack
In an oppressive future, a fireman whose duty is to destroy all books begins to question his task. -IMDB
Watch the trailer here!
~~~~~
After the first feature, please join us for a potluck dinner. Bring something to share. It can follow the theme, or be something you prefer.
~~~~~
Feature Presentation!
Rifftrax's "Star Wars Holiday Special"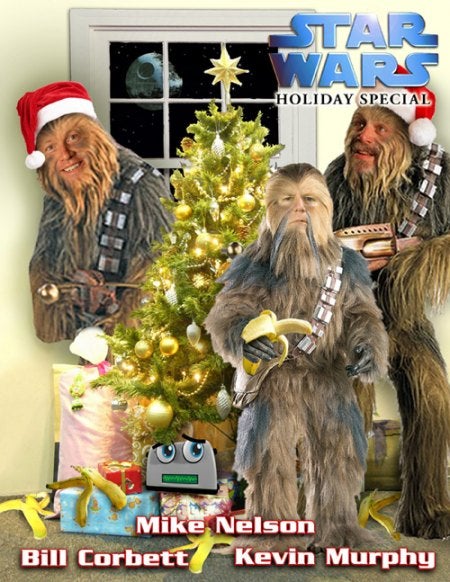 (YEAR, 000 minutes) Directed by: The Rifftrax Team
Starring: Bill Corbett, Kevin Murphy, Mike Nelson
Have a Happy Life Day! And nothing kicks off a memorable Life Day quite so much as watching the legendary Star Wars Holiday Special receive a fully deserved Rifftrax parody treatment! Yes, all your favorite Wookies are here: there's Chewbacca, Malla, Itchy, Lumpy and Art Carney.-Rifftracx Site
Watch the trailer here!
The home of the Laser Rangers is located about four miles north of the Kansas Speedway, NW of the intersection of I-70 and I-435 on the Kansas side of the Greater Kansas City area.

IMAGE CREDITS: The information for all of these shows come from the invaluable IMDB. The movie posters come from Wikipedia or the movie's respected distributors.
The movie screen frame image used for the Laser Rangers contact information is courtesy of Psychology Today Online. Many thanks to these websites!